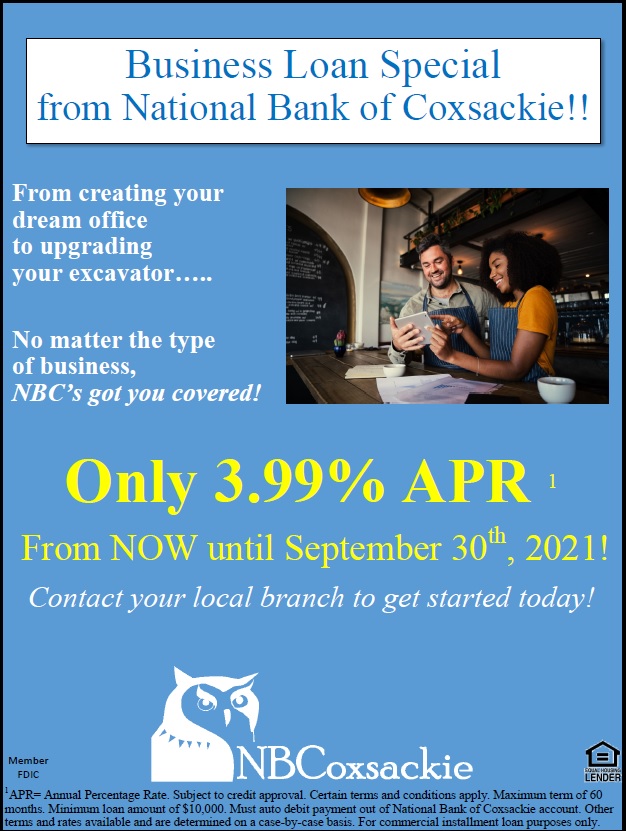 Whether your business is large or small, just starting out or well established, National Bank of Coxsackie has the products, customer services, and experience to help you better manage your finances so you'll have the time to focus on managing what really matters, your business.
With multiple Business Development Officers on hand to personally assist you in creating the most effective solution to fit your specific business banking needs, NBC is a one stop shop!
Contact our Commercial experts for:
Small Business Loan
Commercial Mortgage
Commercial New Building
Building Rehabilitation
Line of Credit
Letter of Credit
Vehicle Loan
Equipment Loan
Overdraft Line of Credit
When it comes to Commercial Borrowing, every scenario is a little different therefore rate and terms are determined on a case-by-case basis so we can tailor it to your needs!
Fill out the Commercial Loan Application Here: Commercial Loan Application
Contact Us to get started today!
1Subject to credit approval. 2Information and interactive calculators are made available to you as self-help tools for your independent use. We cannot and do not guarantee their accuracy or their applicability to your circumstances. We encourage you to seek personalized advice from qualified professionals regarding all personal finance issues.